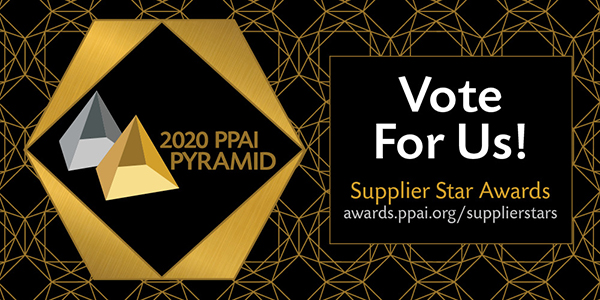 Thank you for trusting us as your supplier of choice for top quality promotional products. We truly appreciate your business. At All Book Covers, we pride ourselves in providing you with superior customer service and exceptional promotional products solutions. We'd be delighted to receive your support for the 2020 PPAI Pyramid – Supplier Star Competition, an industry honor that recognizes promotional products suppliers for excellence in customer service and product and decorating quality.
To vote for All Book Covers visit http://awards.ppai.org/supplierstars
Voting is open July 1–19.
It's that easy.
Thank you in advance for your support and for allowing us to be your continued partner in business and success.
Distributors Get a Free Virtual Proof Upon Completing the follow this step:
Share & Repost your Vote or Vote Confirmation Screen (screenshot if necessary) for All Book Covers at the PPAI Star Award Online Today on your Instagram channels Today: Tag 1 Friend (whom is a distributor), Tag @AllBookCoversHospitality and @AllBookCovers use Hashtag #AllBookCoversAwards in your Shared Post.
Vote for All Book Covers Online for 2019 PPAI Star Award Ballot
Direct Message Us for any Personalized Binders or Hospitality Products: https://www.instagram.com/allbookcovers/