We're sorry, this page does not work correctly without javascript enabled. Please enable Javasript and load this page again.
Vinyl "Greenwich, JR." 1" Deluxe Ring Binder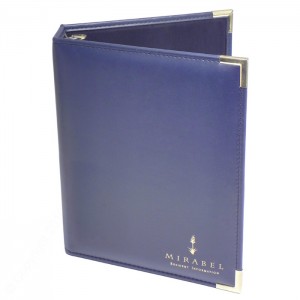 Vinyl "Greenwich, JR." 1" Deluxe Ring Binder
Item SKU:
TS751
Description
Turned and sewn expanded supported vinyl ring binder. Horizontal pocket inside front cover. Padded, moire lined, square metal corners, Nickel Ring Metal, concealed rivets.

Click here to View Our PDF Price List.
Quantity

Price

50

100

250

500
Code:
2BCD
Insert Size:
11 x 8-1/2" + 1/2"
Options / Notes
Padding, Square No Metal Corners, Round Metal Corners, Round Pleated Corners, Concealed Rivets, Extra Pockets, Business Pocket, Shoulder Strap, Retractable Handles and more (see Options page from Price List).
1 Imprint Location is included. The die charge starts at $75 and up based on larger square inches of the die. Options of 1-Color Foil Stamp or Deboss.